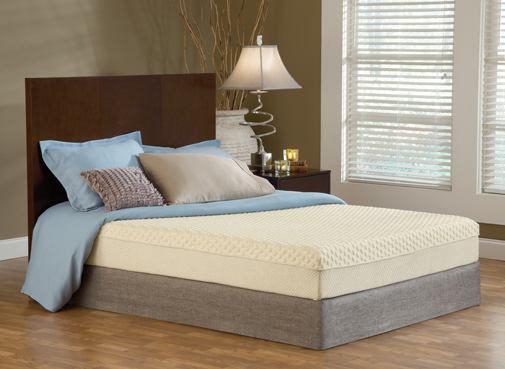 Improve Your Sleep, Improve Your Life. Finally...A Good Night's Sleep You Can Afford. With the Sovereign 10 Inch Mattress from Allassea Sleep Systems, you get what you deserve: the best. Let's talk quality construction. Like all of the mattresses in from Allassea Sleep Systems, the Sovereign 10" Memory Foam Mattress is produced in an ISO 9002 Factory (meeting only the highest quality standards). We also use only Certified Foam: this is of critical importance. If you're considering a mattress which isn't constructed with Certified Foam, think again. Non-Certified Foam means worse consistency in both quality and recovery in the final product. The Tencel Blended Ticking is textured to provide a cooler sleeping surface. Combined with a premium base made of our patented Ventilated PRX Support Memory Foam, the Sovereign 10" utilizes the latest technology to optimize mattress temperature while cradling your every part. Durable, bed-bug resistant, and naturally deodorized, this mattress was MADE for you.
And with a 20 Year Warranty (virtually identical to Temperpedic's), you can rest easy knowing you have peace of mind. Your open-cell high-density memory foam mattress comes brand new in a specially designed box and is shrink wrapped for cleanliness and easy shipping.
Visco Gel Foam

Active Charcoal

Tencel

Ventilated Circulation

Organic Cotton

Compressed Vacuum Packaging

Silk

Bed Bugs Beware

Certified Foam

Ultra Fresh
Layers: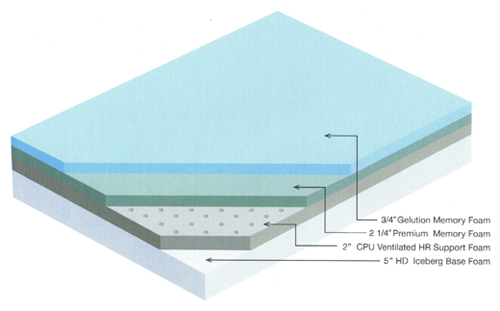 A Tencel Blend Cover made of fire-safe material
A 3.0"-thick 100% premium-viscoelastic open cell memory foam primary top layer
A specially designed 1.0"-thick Ventilated PRX Support memory material air-flow optimizing layer
A 6.0"-thick High Density base layer uniquely constructed to optimize air-flow and support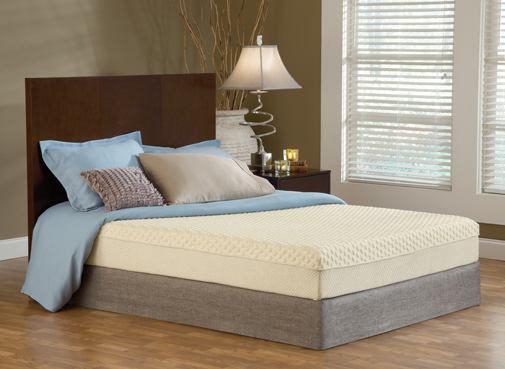 Benefits:
You will experience the many benefits of your Sovereign 10 Inch Memory Foam Mattress from the first time you lie down. The amazing blend of technology used in construction results in a mattress which eliminates the somewhat unpleasant mattress-factory odor that many people have reported when breaking-in their lower quality memory foam beds. But even better yet, this memory foam bed also eliminates mold, dust mites, mildew, and odor. But it doesn't stop there...the Sovereign 10" is anti-microbial and anti-bacterial thanks to the incorporation of our revolutionary Ultra-Fresh tm Technology.
And as with all of the memory foam beds in the Allassea Sleep Systems Collection, this mattress is designed with fresh, healthy, natural additives & ingredients. (Take a look at the icons listed in the Features section, and click the link below for more detailed information.)
The body temperature sensitive high density memory foam will relieve painful pressure points while the open-celled ventilated PRX support layer regulates nighttime temperatures for the most comfortable sleep possible. PRX (Rapid Recovery Polyurethane Foam) aids in heat dissipation and works together with our specially engineered ventilation system to create a 15% cooler sleep surface for deeper more rejuvenating rest. Experience YOUR New Awakening. Remember the incredible feeling of having fresh, positive, revitalized energy each and every morning.