Picking a Mattress:
Why Visco-Elastic Temperature Sensitive, Pressure Relieving Memory Cell Technology
Below is an article about some of the legendary viscoelastic material; although, a different manufacturer than the one cited in this article makes our product, it utilizes the same memory-cell, temperature sensitive, pressure-relieving, viscoelastic technology. We assure you that you will be VERY VERY satisfied with any of our mattresses, which are made to the highest level of quality. And best yet, our product is around 20% of the price of the more expensive brand name mattresses by Tempir-Pedic. Don't pay extra to have a Tempir-Pedic label attached to your mattress. Instead, shop smart...
"Cornell University's Ergonomics group recommends looking for a mattress designed to conform to the spine's natural curves and to keep the spine in alignment when you lay down. Also suggested are mattresses designed to distribute pressure evenly across the body to help circulation, decrease body movement, and minimize the transfer of movement from one sleeping partner to the other, as well as one that includes perimeter edge support.
Although three-fourths of mattress buyers still go with a traditional innerspring mattress set, the noisiest industry buzz is reserved for Tempir-Pedic mattresses (*est. $2000 to $3700, depending on size, not including foundation), made of Viscoelastic, also known as memory foam. Originally, NASA created Viscoelastic for use in astronauts' seats to help absorb G-forces.
We found many glowing testimonials from owners who say the Tempir-Pedic is enormously comfortable. We also found a couple of professionals who say memory-foam mattresses are a good choice for those with back pain or osteoarthritis. Jeffrey K. Bergin, dean at the National University of Health Sciences, reports to WebMD's Leanna Skamulis that memory foam "supports the entire body at all the pressure points as though you're floating."
Sleep-Study Shows Learning and Memory Consolidation Dependent on Rest
A recent study bolstered what scientists have been saying for years: Sleep mediates learning and memory consolidation. The only question left unanswered is exactly how this process occurs. Yet, it is clear from the abundant wealth of information available to the scientific community that sleep plays an important role in learning. "In humans, patterns of regional brain activation seen during daytime task training are repeated during subsequent REM sleep. ... Similarly, human studies have provided examples where increases in REM sleep are seen following training, [and] where [sleep] deprivation diminishes subsequent performance, and where overnight improvement correlates with [more rest]."
With the benefits of sleep reconfirmed once again, the ability to get a better night rest is more critical than ever. With this revolutionary technology at your fingertips (and, indeed all over your body), you will not only be able to see the benefits the next day (improved learning from increased and deeper sleep), but you will also be able to improve your memory and will feel more refreshed and ready for the day. [Citation: Center for Sleep and Cognition, Department of Psychiatry, Harvard Medical School, Beth Israel Deaconess Medical Center E/FD 861, 330 Brookline Avenue, Boston, MA 02215, USA] Check out the rest of the story here...
Visco-Elastic Temperature Sensitive Memory-Cell Material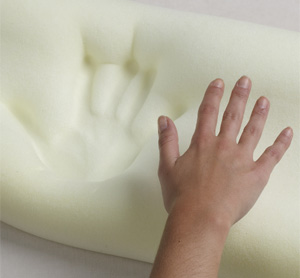 Click here to find out more about all the benefits and the amazing technology of this new material!