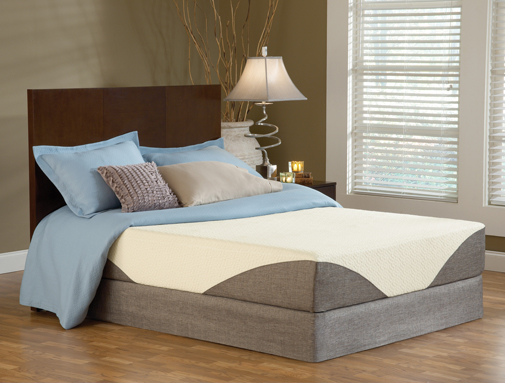 Our Sensuous 12 Inch Memory Foam Mattress incorporates our EXCLUSIVE patented cutting edge features. Of course, the Sensuous 12" also includes all the other top-of-the-line innovations and technologies. We blend TENCEL with Silk and Organic Cotton to create a super durable, yet incredibly soft material which naturally repels bed bugs and (combined with Natural Ticking we use) sleeps cooler, keeping you more comfortable all night long. Want to look forward to getting into bed? The Sensuous 12 Inch Memory Foam Mattress is your answer.
With a thicker base of our high efficacy PRX Material, and the use of optimally engineered channels in the foam, air-flow is maximized, the durability of the mattress is increased, and it becomes even easier for the mattress to cradle you and relieve pressure in a way that's simply not possible with traditional inner-spring mattresses. Of course you also get the worry-free 20 Year Warranty, which comes standard on all of the Allassea Sleep System Memory Foam Mattresses (and it's a good one -- it is virtually equivalent to Temperpedic's Warranty).
Visco Gel Foam

Active Charcoal

Tencel

Ventilated Circulation

Organic Cotton

Compressed Vacuum Packaging

Silk

Bed Bugs Beware

Certified Foam

Ultra Fresh
A Tencel Blend Cover made of fire-safe material
A 1.0"-thick exclusive Sensuous layer, which helps you turn over easily during the night
A 3.0"-thick 100% premium-viscoelastic open cell memory foam primary top layer
A specially designed 1.0"-thick Ventilated PRX Support memory material air-flow optimizing layer
A 7.0"-thick High Density base layer uniquely constructed to optimize air-flow and support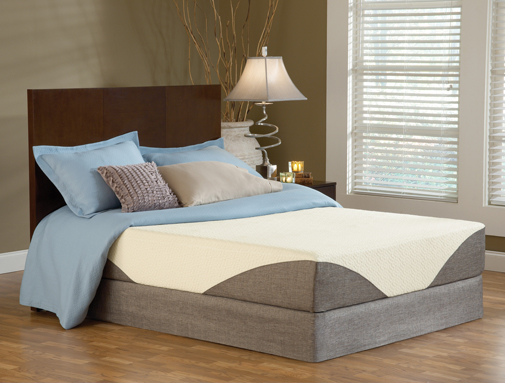 Benefits:
The Sensuous 12 Inch Memory Foam Mattress was designed with purpose. Our healthy construction means the elimination dust mites, mildew, bacteria, mold, odor, fungus, and a CLEAN COMFORTABLE night's rest. Patented Ultra Fresh tm Technology keep your mattress clean by creating an anti-bacterial and anti-microbial effect. Furthermore, the Certified Foam we use results in simply a higher quality mattress. You get the PRX Ventilated Thicker base layer providing refined body temperature sensitive pressure relief due to increased air flow. And it's a feel good product: the Sensuous 12" avoids synthetics and instead implements many natural additives such as Active Charcoal, Organic Cotton, and Tencel (a blend of science and nature for increased strength and bed bug resistance).
Able to be shipped virtually anywhere (via FED‐X) directly to your home for FREE. A better night's rest, a more comfortable night's rest, more energy and a better life await you with the incredibly restorative rest that this mattress delivers. The Sensuous 12 Inch Memory Foam Mattress is top of the line in every way. Exclusive technology provide critical benefits to you every time you lie down. Let the mattress do the work for you, just lie down and close your eyes.