Do you want to actually look forward to climbing into bed? With the Eloquence 8", you finally can. It will provide you with the constant support you need and it is perfect for any well furnished home or apartment. This ingeniously-constructed mattress is made with premium viscoelastic, temperature-sensitive, open-cell memory material. Providing a body-temperature-sensitive response to control support and elasticity, this advanced-technology material relieves uncomfortable pressure points for a pleasant night's sleep. By choosing the Eloquence 8" (the FOUNDATION of our product line), you are BY NO MEANS compromising in your need for an excellent bed. This is our most popular mattress and the one that I sleep on myself. You will not only be satisfied, you will look forward to climbing into bed.
Layers: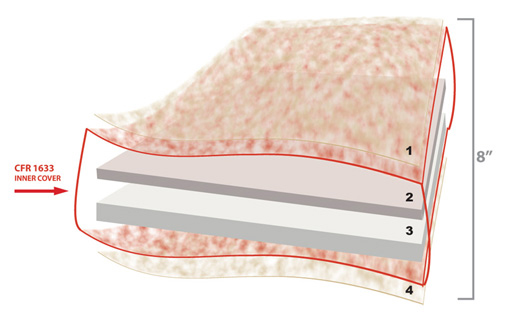 A fabric cover made of Fire-Resistant Jacquard
A CFR1633 inner cover -- a fire-safe barrier made of polyester fiber and viscose
A 2"-thick 100% premium-viscoelastic memory material primary top layer
A 6"-thick InnovativeResponse base layer constructed to optimize air-flow and support
As with all our mattresses you get:
Our Premium top layer made of superior quality 100% Viscoelastic high-density memory material
Body-temperature sensitive technology that immediately responds to the specific heat of your body as you lay down and rest
Pressure molding memory structure, precisely conforming to your every curve
Open celled construction, allowing warm air to flow through the bed keeping you comfortable
8 - 10 second memory recovery time, providing maximum body contact
Our 99% Hypoallergenic cover prevents dust mites from reaching our mattress
A dust mite resistant mattress -- Unlike inner-spring mattresses, the Eloquence 8" is not a food source for dust mites!
Affordable prices perfect for students and savvy shoppers; You pay only 20% of the price of the 'leading brand'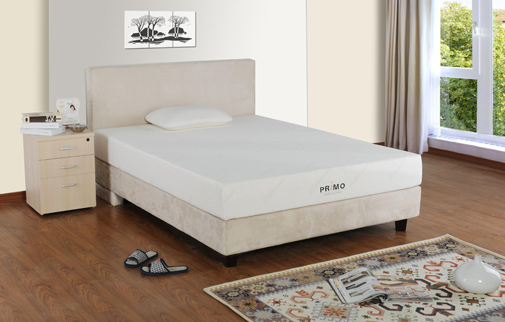 Benefits:
With premium viscoelastic material and a supportive base layer providing optimal airflow, this mattress will help cool you when it's hot and keep you warm when it's cold. Additionally, its sensitive response will alleviate the pressure exerted by your body and cradle you everywhere and in every way. Eliminating pressure points AND your dust mite allergens, you will wake less often during the night, get deeper more recuperating sleep, and awake more refreshed each day.
This is an affordable way to get the sleep technology everyone is talking about. Made with virtually the same viscoelastic temperature sensitive memory material you've seen advertised on TV, this amazingly helpful mattress will improve the quality of your sleep, and your life. Get more rest, even if you sleep less, by tapping into a deeper more comfortable sleep with the Eloquence 8".