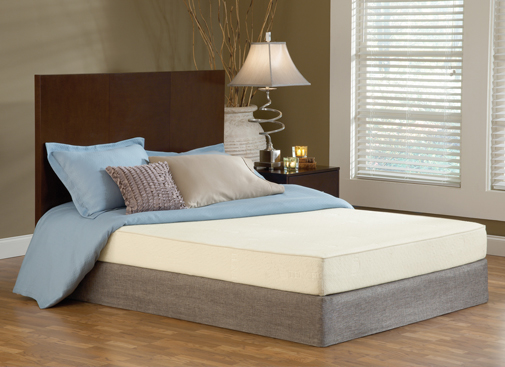 We are selling "Better Sleep", i.e. sleep better and save money. Not only does the Aurora 8 Inch Memory Foam Mattress come shrink wrapped and vacuum sealed, but additionally, the open-celled, high-density memory foam comes with a textured Tencel Blended Ticking. This translates into ease of maintenance, long-lasting durability, a cooler sleep surface, a naturally deodorized product, and a mattress that is resistant to bed bugs. Amazingly, the Aurora 8" also uses a high-density base foam which is designed to add additional support and increase durability. AND, the Aurora 8" combines Ventilated Foam, which allows additional air‐flow circulation, with Natural Ticking. Translation: you get an approximately 15% cooler sleep surface for maximum comfort at night. The number one complaint of memory foam bed buyers is that their mattress sleeps too hot. With our revolutionary technology, we have completely eliminated this problem.
Implementing Natural Additives, your better-rest-machine incorporates innovative Ultra Fresh tm Technology, Active Charcoal, Organic Cotton, Tencel, and Silk. Enjoy the luxury of our standard 20 Year Warranty (the same as Temperpedic, although it is possible there is some slight variation as they continually change wording) -- and Rest Easy...the high density memory foam will make any position feel natural as it relieves pressure by conforming to the shape of your body.
Visco Gel Foam

Active Charcoal

Tencel

Ventilated Circulation

Organic Cotton

Compressed Vacuum Packaging

Silk

Bed Bugs Beware

Certified Foam

Ultra Fresh
Layers: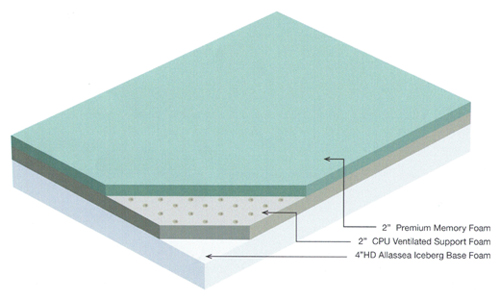 A Tencel Blend Cover made of fire-safe material
A 2.0"-thick 100% premium-viscoelastic open cell memory foam primary top layer
A specially designed 1.0"-thick Ventilated PRX Support memory air-flow optimizing layer
A 5.0"-thick High Density base layer uniquely constructed to optimize air-flow and support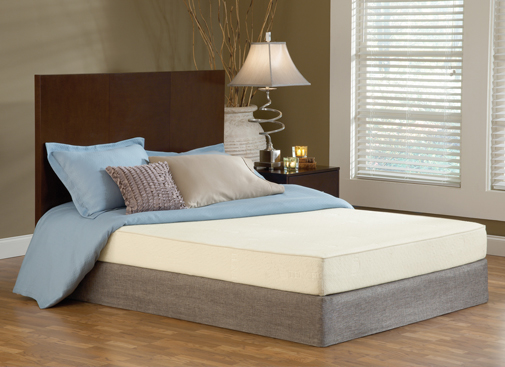 Benefits:
The Aurora 8 Inch Memory Foam Mattress, like all of the Allassea Sleep System models, are designed with fresh, healthy, natural additives & ingredients (please see the icons in the Allassea Sleep Systems Features section) This means: no dust mites, no odor, no mold, no mildew, bedbug resistance and patented ultra‐fresh tm protection with anti microbial, anti-bacterial active ingredients. For example, we use Natural Ticking for a cooler sleep surface and incorporate TENCEL into it, making it extremely difficult for bed bugs to penetrate.
Shrink wrapped and sealed, our process results in a Fresher mattress when you open it in your home, providing greater cleanliness and quality. In particular, the Aurora 8 Inch Memory Foam Mattress excels because of it's affordability in comparison to all of the unique benefits you receive. This mattress uses ventilated memory foam and PRX (Rapid Recovery Polyurethane Foam). This ventilated foam helps to dissipate heat and in conjunction with the 15% cooler sleep surface makes for a much cooler, more comfortable sleep experience. You spend 1/3 of your life on average in bed, why not enjoy it. Sleep like a baby; You deserve it.